Edward de Bono, one of the greatest thinkers of our time, states that "Creativity involves breaking out of established patterns in order to look at things in a different way." Creativity is about possibilities. Suspending preconceived notions. Opening the mind to a change in perception and thinking.
A recent IBM poll of 1,500 CEOs identified creativity as the No. 1 "leadership competency" of the future. However, America has been in a significant creativity crisis for over a quarter century. Since 1990, even as IQ scores have risen, creative thinking scores have significantly decreased especially with our youngest students in kindergarten through third grade. Educational psychologist Dr. KH Kim has been studying the creativity crisis for years, Newsweek even making a cover story in 2010, and her meta analysis and research shows that from 1966 – 1990 creativity was thriving in our students, but since 1990 we have only seen dramatic decreases.
Why? There is no singular reason. In the mid 1980's, America shifted into an age of insecurity, which has contributed to American's decrease in creativity. People were afraid to fail which led to a lack of innovation. In the late 1990's, standardized testing became "the" initiative leading to policies like No Child Left Behind; which focus on a singular correct answer. Some people, without solid research, want to blame television on the lack of creativity in students. Regardless the cause, we need to address the problem.
Creativity is the bedrock of innovation. To solve the problems we face on a global scale, we will need new ideas, new solutions, and new thinkers; so how do we develop creative thinkers?
4 ways to build creativity into the classroom:
1. Change the Meaning of the Word "Fail."
Failure is not an end result unless we make it that way. Every day we fail at things but we don't quit. Spilling coffee on our pants doesn't stop us from drinking more. Missing an appointment doesn't mean you don't reschedule. In real life we are so used to failure being part of life that we created programs to  move us forward, like speallcheck… I mean spellcheck.

Use the design process in your classroom and allow students multiple attempts to succeed. It took James Dyson over a 1,000 prototypes to perfect his cyclical vacuum system, yet we hold students to only one attempt.
Preach that failure is only when you stop trying. Help students believe in themselves and that fail is iterative.
Use real examples… Pixar is one kids connect too.

The first reaction test audiences had to "Monsters, Inc." wasn't the bottomless sense of wonder drummed up by most Pixar movies: It was boredom. After about fifteen minutes, people began checking their watches and asking what is this movie about. And so it was back to the drawing board. – Director Pete Docter
Check out Kahn Academies lesson on how the Pixar Storytelling process can help unlock creativity.
2. Allow Students Multiple Ways to "Brainstorm"
Science shows that group brainstorming can activate a neurological fear of rejection and that groups are not necessarily more creative than individuals. Brainstorming can actually be detrimental to good ideas.
"Forget quality; aim now to get a quantity of answers. When you're through, your sheet of paper may be so full of ridiculous nonsense … You're loosening up your unfettered imagination—making your mind deliver." – Groupthink by John Lehrer – The New Yorker

Steve Jobs used a practice called Creative Abrasion where ALL ideas, good and bad, are productively challenged forcing people to truly evaluate their approach and thinking. In your classroom, with this approach you don't stop at the first good idea like many times students do, but only stop when a time limit or ideas are exhausted. Prompt students to discuss thoughts about all the ideas shared, the thinking behind one idea may lead to an even better idea.
Use homework as individual brainstorming time. Give students the basics for the prompt ahead of time and let them brainstorm alone at home. Use google forms or padlet to capture anonymous ideas. When students come into the classroom, all ideas can be discussed without fear of personal ridicule.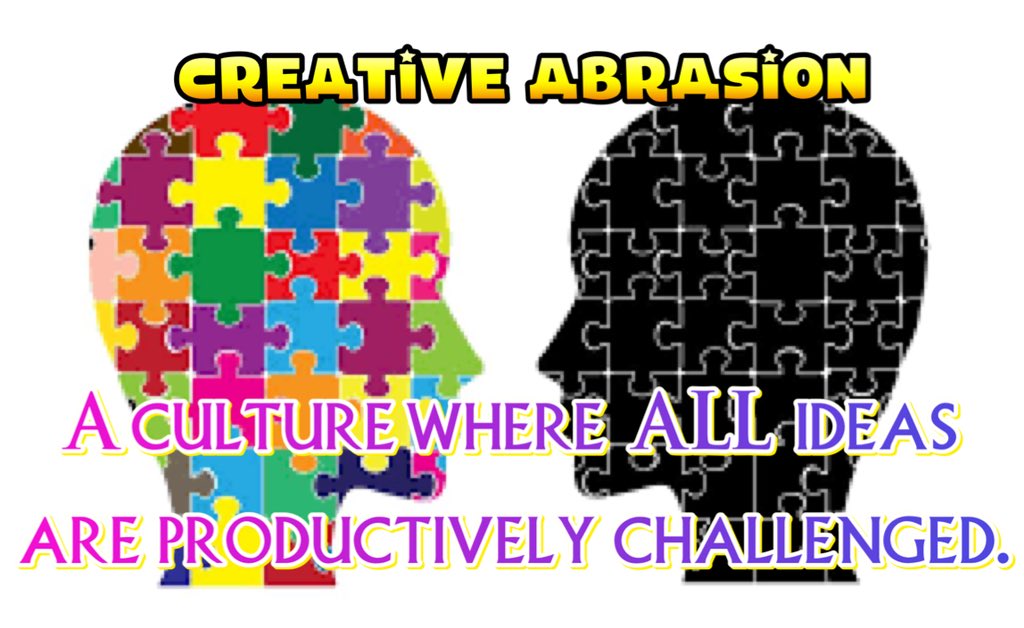 3. Encourage Student Voice and Choice.
Giving students a voice and a choice on how they apply or present information allows them to practice creative thinking. In the business world, innovation is seen in how information is presented. Powerpoint for many years was innovative, however now 1-take videos, Flipgrids, Prezi, emaze, and Nearpod are being seen as todays next step. Allowing students to explore their own voice through choice helps them build their creativity while developing skills in using all types of tools.
The arts give content a way to connect to real people through emotions and passion. Giving students the opportunity to use their creativity, especially through the arts,  builds students understanding of how to connect their ideas to people in the real world. Think about this, do you connect to history better from:

Ben Stein in Ferris Bueller's Day Off…

or Lin Manuel Miranda and the cast of Hamilton…

Check out the Hamilton Education Program which is coming to 13 cities in the 2018-19 school year; and the FREE content developed to help use Hamilton in instruction. What a great connection to Creative Abrasion and debating all ideas.

FYI – Boston, Charlotte, Chicago, Dallas, Detroit, DC, Ft. Lauderdale, Hartford, Minneapolis, New Orleans, New York, Pittsburgh, Tampa.

Instead of laying out options for a students voice and choice, just limit what they can't use. Instead of saying "for this assignment you have to use one of these three ways to share," state "for this assignment share your thinking back with me in any way you choose except through…" This approach allows true choice and helps build student creativity. They are allowed to try new mediums, fail, and try again. Just remember that rubrics are CRITICAL to help show understanding and learning.
Institute Genius Hour into you curriculum. Allowing students some time to test things out, explore their passions, and try new things helps them understand the different options they have in presenting their own voice.
4. Set aside room for a classroom Makerspace… time to visit the school Makerspace.
Makerspace's are havens for curiosity, creativity, and innovation. Let students take apart old machines to see how they work. Encourage them to build/design concepts they explored in class or during Genius Hour.

Need help implementing a tool or craft within your Makerspace? Check out Instructables; free courses and directions in developing "Makerspace-esque" skills. Learn about arduinos, how to weld, how to sew, etc…
Check out Dr. Jacie Maslyk's book and blog on implementing STEAM Makerspace's. She created a great A-Z list of items to help you implement a fairly inexpensive Makerspace in your school or classroom:

A – aluminum foil, acrylic paint, art supplies
B – beads, brass fasteners, buttons, balloons, beans, battery packs
C – cardboard, card stock, cotton balls, crayons, clothes pins
D – duct Tape, dowel rods, drafting tables, Dot and Dash robots
E – Elmer's Glue, Energizer batteries, egg cartons
want the rest… find it here: What's in your makerspace? From A to Z